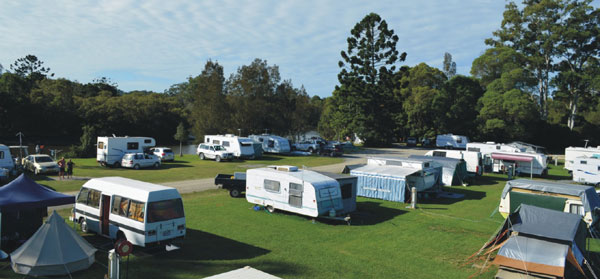 When attending one of the major Byron Bay Music Festivals (Byron Bay Blues Festival, Splendour in the Grass and Falls Festivals) throughout the year, the Mullumbimby Leagues Club camping grounds are ideal for your accommodation. The camping grounds are just 10 mins from the festival sites situated at Tyagarah & Yelgun in the beautiful Brunswick Valley. The camping area also has newly upgraded powered sites.
Camping & Golfing Gallery

CAMPING FACILITIES AVAILABLE !!!
Mullumbimby Rugby League Club Grounds Camping Facilities
RULES – POLICY – FEES 
(powered & unpowered sites, river frontage, tree shaded sites)
For bookings call our caretaker on  0405 198 866
EFTPOS AVAILABLE
Pet Friendly
Dump Point 
Big Rig – Large Van Friendly
Large Sites
Great Views
Fishing
Amenities
Close to Town
15 Minutes from Byron Bay
90 Minutes from Brisbane

Powered Waterfront View Sites
Powered Sites  ($30.00 per night (low season) – additional persons $5 each, max 4 people)

Unpowered Sites  ($25.00 per night (low season) – additional persons $5 each, max 4 people)
*Note prices change at Peak seasons e.g. School Holidays, Easter & Christmas holidays. Contact the caretaker for further information on 0405 198 866. 
Blues Festival Camping
The Mullumbimby Leagues Club offers camping over the Easter weekend for the Byron Bay Blues Festival.
With breakfast on offer of a morning, a fully licensed bar and shuttle bus to and from the festival the leagues club is the perfect spot to camp for the Blues festival, and only 5km from festival site.
Call our caretaker on 0405 198 866 to book. Unfortunately we are unable to take booking via email, facebook or the website.
Campground Rules
– The Mullumbimby Leagues Club is pet friendly. Dogs must be on a lead at all times, and must be cleaned up after.
– No loud noise between the hours of 10pm and 7am.
– Bins are provided around the grounds, please dispose of rubbish properly.
– The ground's have a 10km speed limit at all times, please use the roads provided. Be thoughtful as the fields surrounding the camp grounds are sports fields.
– No Fires are permited.
– Camping is restricted to designated camping areas.
– The Dump point on the clubs grounds is for Leagues Club campers only.
– The shower facilities of the camp grounds are for Leagues club campers only.
* The Mullumbimby Leagues Club Camping caretakers and Club Management have the right to evict any person(s) who are found to breaking the club and campground rules, or if they believe the person to be of a nuisance or danger to other campers and patrons.