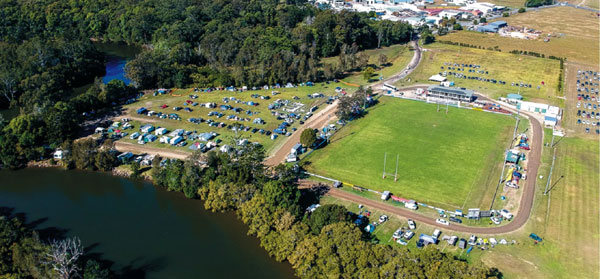 The Mullumbimby Leagues Club is open for club patrons and visitors to enjoy a social get together.
The building was constructed as a Rugby League Clubhouse in 1984, and since then has provided the central meeting place for a number of sporting organisations in the valley.
The club recently established new camp sites, taking the total number of sites in the camping ground to 40.
Situated beside the Brunswick River, with ample shade trees and amenities open 24 hours, the Mullumbimby Leagues Club camping ground has become very popular throughout the year.
The Mullumbimby Leagues Club is a fully Licenced Club House …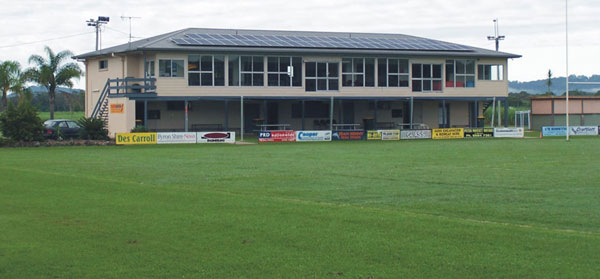 Trading Hours: Valid from Oct. 2021
Monday – Closed
Tuesday – 3.30pm – 6.30pm,
Wednesday – 3.30pm- 9.00pm,
Thursday – 3.30pm – 6.30pm,
Friday – 3.30pm – 9.30pm,
Saturday – Closed (Available for functions & events)
Sunday– Closed (Open on home games, available for functions & events)
*Closing times may vary.
Happy Hours: Tuesday-Friday 4pm – 6pm
Meals from 5.30pm Wednesday & Friday
Patrons can make the most of the eleven hole golf course incorporated into the Mullumbimby Leagues Club grounds and enjoy the relaxed, social atmosphere of the "Elbow Inn." This covered barbecue facility has been built on the bank of the river. It is cooled by the sea breeze moving through the valley and boasts views of Mt Chincogan to the west. The "Elbow Inn" is a popular venue for guests to meet in a social setting.
In 2011 the Mullumbimby Leagues Club were successful in obtaining a state government grant from the Department of Environment, Climate Change and Water. This has enabled the Club to install water-saving items as approved through the NSW Climate Change Fund.
The club has also installed solar electricity panels, dramatically cutting accrued energy costs and greenhouse gas emissions … a bonus for both the club and the environment.
In 2014 the MLC was successful in a government grant to fund a children's play ground, the play ground is now constructed and being used and enjoyed by children. The Mullumbimby Oztag Association also contributed and purchased another piece of playground equipment.
For camp site bookings at Mullumbimby Leagues Club, contact the Caretaker on 0405 198 866 or to play golf, book a function or arrange to park your car in the grounds during the Blues Festival at Byron Bay each Easter, phone the clubhouse on (02) 6684 1400.
Membership is only $10 at the club, fill this form out and either email or post it to the club with your $10 and receive the benefits of being a member of the MLC.
Memberships are now due for 2021
click here to access application form.